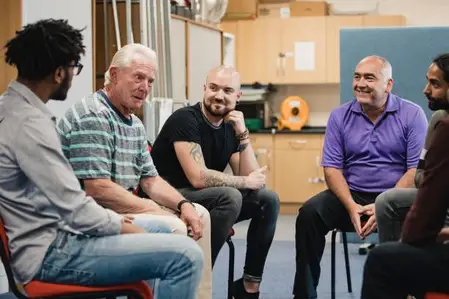 Register online and Learn about DBT Program Requirements
Borderline Personality Disorder (BPD) is under-diagnosed disorder within the male population; men are more apt to be diagnosed with Anti-Social Personality Disorder. Unfortunately, a BPD diagnosis has been far more common for women than men. The individual and group counseling services we provide help men identify the source of their struggles as well as learn self-awareness and self-acceptance to create a quality life.
This group, for adult men, is effective for adults who find it difficult to manage emotions, experience intense pain or anger, struggle to maintain relationships, fear rejection and abandonment, self injure, suicidal thoughts, feeling empty and self loathing.
Through individual therapy, skills groups and coaching, our DBT program helps participants learn to become more mindful of their feelings, thoughts and behaviors; regulate their emotions and become more resilient; manage distress and increase impulse control; improve relationships and self-respect; and balance acceptance and change.
Men's Group
Wednesdays: 6:00PM-7:30PM (virtual)
Next Group: TBA
Adult Group (for men & women)
Mondays: 6:00PM-7:30PM (in person)
Thursdays: 12:30-2:00PM (in person)
You can benefit from DBT, if:
You feel rejection, abandonment, or ambivalence
you have an explosive temperament
you seek novelty
you have substance abuse problems
you have problematic impulse related behaviors
you have been diagnosed with narcissistic, and/or intermittent explosive disorder
you find yourself feeling insecure, cannot trust others, and feel jealousy
you experience anxiety and depression
you experience self-loathing
you confuse sex with intimacy
You can expect to learn:
how to decrease life interfering behaviors
mindfulness skills
emotions regulations
distress tolerance
interpersonal effectiveness
how to do chain analysis, and validation skills.

The Men's DBT Skills Group is 24 weeks. You may join the group at different intervals and stay until you have completed a 24-week period to learn all of the skills. Typically individuals complete their first set of 24 weeks and stay to really begin to practice and fine tune the skills being taught.