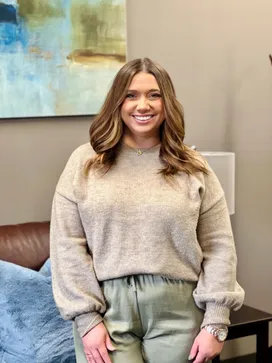 My education consists of a Bachelor of Arts in Human Development and Family Studies from Michigan State University and a Master of Arts in Marriage, Family and Couple's Counseling from Western Michigan University. I am currently a Limited Licensed Professional Counselor (LLPC) in the State of Michigan, which allows me to diagnose and treat mental health disorders. As a LLPC, I also receive supervision from a fully Licensed Professional Counselor (LPC) on a regular basis.
Majority of my experience has been working with individuals and families utilizing techniques of Person-Centered Therapy, Dialectical Behavioral Therapy (DBT), and Solution-Focused Therapy. I've had the opportunity to work with a diverse group of adolescents, children, adults and families in different settings.
My goal is to help provide my clients with the resources and tools to function successfully, grow, and experience overall personal wellness. I believe every client is unique in their own diverse life experiences that has led them to where they are today. I look forward to helping provide my clients with a safe, empowering and healing place to work through life's difficulties
Schedule an Appointment with Drew Graber


Presentations

Here you will find a list of presentations I've done for schools, mental health organizations, churches, and other agencies.
Teaching Mindfulness to Adolescents and their Families
Emotional Regulation: Teaching Healthy skills to Adolescents and families
Interpersonal Effectiveness: Teaching Teens and Families How to Have Effective Communication
Distress tolerance: Teaching ways to "deal" to teens and families
Treating Adolescent Trauma: A Look at the Use of EMDR, TF-CBT, and/or DBT to Help Adolescents Heal
CID and A-TIP the CPR of trauma

Specialty Training
It's important to me to continue my education regarding topics that will keep me knowledgeable and trained in the areas that best serve you. Here you will find areas that I specialize in and continue to maintain a high level of expertise.

2-Day DBT Training, 3-Day PESI DBT Training Certification
Emergencies: If you are experiencing an emergency or if your need is of an urgent nature, please call 911 or go to your local hospital. Contacting me does not constitute a client therapist relationship unless you are a regular client who is being seen by me in my office.
Inform the 911 operator that this is a psychiatric emergency.
Ask for police officers and first responders trained in crisis intervention or trained to support people and families experiencing a psychiatric emergency.
US Suicide Prevention Hotline: 988

1-800-273-TALK (1-800-273-8255)
1-800-SUICIDE (1-800-784-2433)
1-888-SUICIDE (1-888-784-2433)
1-877-SUICIDA (1-877-784-2432) (Spanish)
MY SPECIALTIES
Specialties
Adolescents/Young Adults
Self-Injury
Suicidal Ideation
Depression
Family Counseling

Issues
Anxiety
Child or Adolescent
Coping Skills
Depression
Family Conflict
Life Events and Transitions
Mood Disorders
Peer Relationships
Relationship issues
Stress
Self-Esteem
Ages
Children
Preteens/Tweens
Adolescents/Teenagers
Adults

Treatment Orientation
Strength-Based
Dialectical Behavioral Therapy (DBT)
Strength-Based
Strength-Based
Play Therapy
Modalities
Individual
Couple
Family
Group
USING YOUR INSURANCE?
If you decide to use your insurance benefits for "behavioral or mental health," contact your insurance company and ask the following questions:

Do I have outpatient mental health benefits?
Do I have a deductible to meet for in or out of network benefits?
If yes, how much is your total deductible?

If yes, how much of the deductible has been met?

Can I be seen by a LLMSW, LMSW, TLLP, LLP, LLPC, LPC, LLMFT, LMFT, or PhD?
Does my insurance allow supervision by a PhD or LMSW?
Is my therapist in or out of network?
If my therapist is out of network, what will my insurance cover for out of network services?

How many visits am I allowed per year?
If there a limit on visits, how many have I used already?

What is my policy plan year (i.e., January to January or September to September)?
Do I need a referral or authorization in order to be seen for therapy or testing?
Will my insurance cover individual and group therapy are on the same day?
What is my copay amount per session?