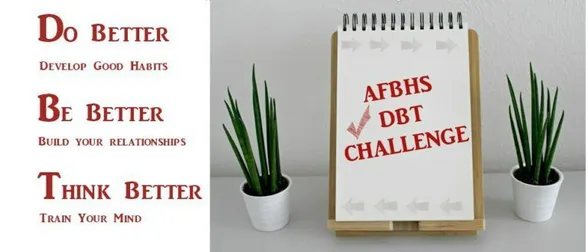 Doing better, Being better, and Thinking better are things we can strive towards everyday, and it is also fits the model of an effective form of a treatment, DBT, used for those with intense emotions. But at the heart of DBT is the mindset healthy individuals use each day with skills everyone needs to not only have satisfying relationships with the people around them, but with themselves.

To improve those lacking areas of your life, whatever they may be (do better), you first have to work on you (be better) and evaluate your thought process (think better). That doesn't just apply to having intense emotions with mental illness. It could be the kids are driving you crazy or you're stressed about work, or you've just had a really crummy day–DBT skills are life skills and at AFBHS, we want a healthier you this year and beyond.

Develop good habits. Build up your relationships. Train your mind.

Let us show you how with the AFBHS DBT challenge.
Take the AFBHS DBT Challenge
When you sign up for the DBT Challenge, you get a short blog from our therapists once a month of a DBT skill YOU can practice in your every day life of simple ways to develop those healthy habits, build better relationships with yourself and others, and train your mind, your perspective to help you deal with troublesome situations or just your average bad day before those things are at your doorstep. This year commit to a better you.

Share with us on Facebook how you took the challenge. We want to know details. How did the challenge help you? Take a picture and share a story!
Archive
January 2018 – Be Where Your Feet Are

February 2018 – Get What You Want

March 2018 – The Art of Calming Down

April 2018 – Be Happier By Building Positive Experiences

May 2018 – Accepting What YOu Cannot Change

June 2018 – Becoming the Master of Your Fate

July 2018 – Do Opposite, Feel Opposite
DBT ACCREDITED
COMPREHENSIVE PROGRAM
Take the DBT: Do Better. Be Better. Think Better. Challenge

Sign up to receive monthly challenges

We want to know details. How did the challenge help you? Share a pic, share a story! Be the first to share each month.

Facebook or Twitter #DBTChallenge

Lean more about the DBT Challenge