Dialectical Behavioral Therapy
Dialectical Behavior Therapy is a practical and structured program proven to bring about significant change in people's lives. We are one of the few DBT trained practitioners in the state and we offer a series of specific DBT groups on an ongoing basis. In addition, we provide DBT consultation, presentations, and training.
We have undergone intensive DBT training through Behavioral Tech., LLC and brings an array of expertise and clinical experience to the treatment of self-injury, emotion dysregulation disorders, and borderline personality disorder. We have been specifically trained by Behavioral Tech, LLC in the application of DBT to children, adolescents and adults. My clinical experience includes work with couples, families, adults and youth providing, individual, family, and group therapy for those who are looking for real solutions to complex problems.

In addition, AFBHS is the only practice in the area to offer all modes of DBT for adults, adolescents, children, and family members (Family Matter Group). Learn more about our Children's DBT Program (Dialectical Behavior Therapy-Children) We all have been extensively trained in DBT, participate in ongoing DBT team consultation, and engage in ongoing training monthly. We provide comprehensive DBT treatment that follows the evidence-based model developed by Marsha Linehan, PhD and Francheska Perepletchikova, PhD. As a DBT accredited facility, with DBT certified therapist, our goal is to deliver competent and effective DBT treatment to you. Read more about my DBT training.

Our structured program focuses on the reducing or eliminating behaviors that are dangerous or get in the way of your capacity to maximize treatment, while providing new skill sets to support healthier functioning. Therapists work to help you and your family balance the need for acceptance and change, a core DBT principle. We help you identify issues that may be reinforcing unhealthy behavior in order to develop individualized treatment plans and contingencies for long-term benefits. We use validation strategies and cognitive behavioral protocols to help clients stay committed to treatment as they attempt the challenge of changing ingrained behaviors such as cutting or other types of self harm.
Difference between DBT informed therapy and a comprehensive DBT program
DBT informed only uses a portion of the evidence-based model developed by Marsha Linehan, PhD.
A DBT informed therapist may not have had extensive DBT training or ongoing training.
A comprehensive DBT program must include individual, family, group, coaching, and consultation with trained therapist.
Comprehensive DBT is best practice and increases likelihood of successful treatment in specific areas.
Who can benefit from DBT?
Adults and Adolescents with these symptoms or behaviors:
Depression
Anxiety
Attention deficit hyperactivity disorder (ADHD)
Impulsivity
High irritability
Over-spending
Substance use
Major depression
Bipolar disorder
Post traumatic stress related to childhood sexual abuse
Self injurious behaviors
Chronic suicidal thoughts
Multiple suicide attempts
Difficulty regulating emotions (including chronic moodiness or extreme reactivity and sensitivity to environmental triggers)
Chaotic relationships (with peers and adults)
Sense of emptiness and confusion about self, emotions, and behaviors of others
Borderline Personality Disorder as well as some other personality disorders
Pre-adolescent children with severe emotional and behavioral dysregulation
Binge eating disorder
Bulimia nervosa

Through individual and family therapy, groups and coaching, our DBT program helps participants learn to become more mindful of their feelings, thoughts and behaviors; regulate their emotions and become more resilient; manage distress and increase impulse control; improve relationships and self-respect; and balance acceptance and change.
Program Requirements:
DBT is a systematic therapy that organizes treatment into stages and goals, or targets. The goals of the first stage of DBT focus on decreasing life-threatening behaviors, reducing behaviors that may cause you to drop out of therapy, decreasing behaviors that affect your quality of life, and building effective coping skills. In stages two, three, and four, the focus of DBT is on experiencing emotions more fully, effectively solving ordinary life problems, and moving toward a feeling of completeness.

Initial assessment generally takes 1 – 2 sessions. The treating therapist assesses client's problems and treatment goals to see if they are a good fit for the DBT Program.

After the initial assessment, 1 – 4 sessions, generally, are used establish commitment of the client and family (Pre-Treatment). Commitment is important prior to treatment. Clients are asked to commit to making certain behavioral changes even though they have not yet learned how to make such changes. We do this because of the ample evidence suggesting that people are more likely to behave in a particular way if they agreed to do so beforehand. Clients and family are asked to agree to all aspects of treatment as described below, and their individual therapist will help to anticipate and problem-solve any potential treatment barriers (e.g., missing sessions due to transportation problems, staying silent in sessions, feelings of hopelessness).

After or during pre-treatment, clients attend a 1-hour orientation prior to starting a DBT skills group. In the orientation, clients can expect to learn about our comprehensive, DBT accredited program, research about DBT, and program requirements for attendance and homework. In addition, clients will learn what to expect from the program in more depth and have a chance to ask questions. At orientation, clients complete a DBT contract.

During the treatment phase, the individual therapists will help the client to: 1) identify and maintain focus on the primary problems to be addressed; 2) stay motivated to work hard in treatment and apply new behaviors in their daily lives; and 3) coordinate and consolidate the different parts of treatment and make sure it is all tailored for the particular individual's situation. In addition, the client and family will participate in family therapy as needed, DBT Skills Group, Family Matters Group, and use phone coaching as needed. Individual therapy must be with an AFBHS therapist.

Clients contract for an initial 24 sessions (Women's Group), 24 sessions (Adolescents Group), 16 Weeks (Tweens Group), 12 weeks (Kids Group) with an option to renew at the end of the skills group cycle. Families contract for 12 weeks of the Family Matters Group with an option to renew at the end.
DBT Stages and Targets
Dialectical Behavior Therapy organizes treatment into DBT stages and targets so that you can first address issues that are life-threatening or preventing you from effective treatment before learning new coping behaviors. DBT is organized into the following four stages:
Stage 1: The first stage of DBT therapy will help you to become more in control of your behavior. During this stage, you will learn to reduce and eliminate life-threatening behaviors and behaviors that interfere with treatment, decrease behaviors that affect your quality of life, and learn skills to help you improve your relationships and have better emotional regulation. You will also address any co-occurring disorders you may have, such as depression, anxiety disorders, or eating disorders.
Stage 2: During the second stage of DBT therapy, you will focus on learning to fully express your emotions so that you are no longer "suffering in silence." You will work with your DBT therapist to address any trauma or symptoms of Post Traumatic Stress Disorder (PTSD) and find ways to experience your emotions without shutting down.
Stage 3: The third stage of DBT therapy addresses how you solve ordinary life problems, such as relationship issues or career concerns. During this stage, you will learn techniques for solving these types of problems so that you can lead a more functional life.
Stage 4: During the final stage of DBT therapy, you will work with your DBT therapist to find a way to feel a sense of connection to others and the world around you.

The DBT treatment team meets regularly to assist each other in providing effective and compassionate treatment. We spend time problem-solving difficulties that interfere with client progress in treatment and help keep each other practicing within a dialectical framework.
Dialectical Behavior Therapy treatment is made up of five components:
Individual Therapy
When you undergo DBT treatment, you will have weekly individual DBT sessions with a trained DBT therapist. These sessions usually last an 45 to 60 minutes. To participate in the DBT Program, participants much be in individual therapy at our office.
Family Therapy
Family therapy occurs on an as-needed basis to increase behavioral skill use within the family system, improve communication between family members, and to reduce family interactions that interfere with either the adolescent, woman, or their family's quality of life.
Group Therapy
DBT Groups reduce and eliminate self-defeating behaviors and behaviors that interfere with treatment and life; decrease behaviors that disrupt the quality of life; learn skills that increase positive relationships, end bad relationships and build healthy new relationships; increase awareness to the present moment; understand what emotions are, how they function, and how to experience them in a healthy way; and learn how to tolerate emotional pain without becoming overwhelmed. The Tweens and Kids DBT Groups require parent attendance. The Adolescents DBT Group meets for 1.5 hours with parents.
What you can expect from the DBT Skills Group:
Mindfulness Skills
Emotions Regulation Skills
Distress Tolerance Skills
Interpersonal Effectiveness Skills
Walking The Middle Path Skills
Validation Skills
Chain Analysis Skills

Family Matters Group
The Family Matters group that primarily focuses on issues that are specific to BPD, but may also be appropriate for those who love someone who has intense emotions and struggles managing those emotions and returning to baseline feelings.
What you can expect from the Family Matters Group:
To receive education and research about BPD
To be learn Dialectical Behavior Therapy Skills
To learn problem management skills and setting boundaries
Share and hear family perspectives and experiences
Parents, spouses, adult siblings, and other adult friends and family of someone with BPD to receive support
To learn skills that will encourage your own emotional wellbeing

Children's DBT Program (for 7-13 Years )
DBT Phone Coaching
In addition to in-person therapy, you will also have the option of contacting your DBT therapist for DBT phone coaching sessions. Phone coaching can be a vital component of treatment if you are about to engage in self-harmful behaviors.
DBT ACCREDITED
COMPREHENSIVE PROGRAM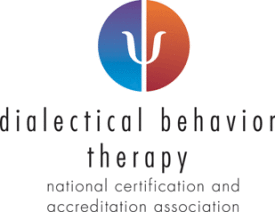 Take the DBT: Do Better. Be Better. Think Better. Challenge

Sign up to receive monthly challenges

We want to know details. How did the challenge help you? Share a pic, share a story! Be the first to share each month.

Facebook or Twitter #DBTChallenge

Lean more about the DBT Challenge
FAMILY MATTERS & DBT GROUPS SCHEDULE
Adolescent Girls & Boys DBT Group
High School (with a parent)
24 Weeks
Tuesdays 7PM – 8:30PM

Tweens DBT Group
11 – 13 years old (with a parent)
16 Weeks
Wednesdays 5:30PM - 6:30PM

Children's DBT Group
7 – 10 years old (with a parent)
16 Weeks
Wednesdays 4:30PM - 5:30PM

Adult DBT Skills Group
24 Weeks Group
Mondays 6PM – 7:30PM
Wednesdays 6 PM – 7:30PM (Women Only)
Thursdays 12:30PM – 2PM

Family Matters Group
12 Weeks
Mondays 6PM – 7:30PM
Parent's Group (Children's DBT Program)
12 Weeks
Wednesdays 6:30PM – 8PM
Group Forms Complete Group Intake Forms